7 Exercises to a More Intimate Marriage
As the years pass in marriage, it's easy to take for granted the bonding power of touch, or to reserve all physical relating to the bedroom. But physical intimacy involves so many types of physical connection — not just sex.
In the color-coded system below, Dr. Doug Rosenau utilizes color and the pyramid shape to show how exercising the 3 types of intimacy can foster a more caring, loving and trustworthy marriage.
Brush up on the meaning behind each layer in our recent blog post. Then, put each intimacy type to the test with the 7 exercises below.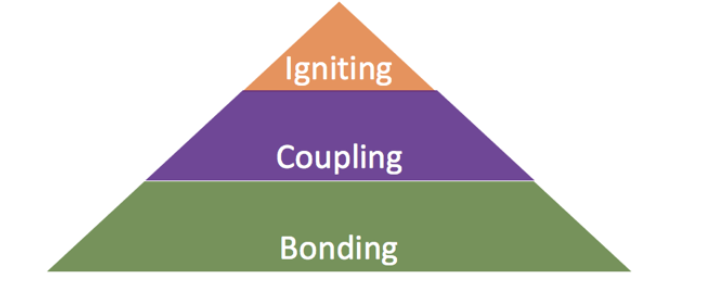 Bonding Intimacy Exercises
Implement the "Coming Home Ritual" — When you or your spouse comes home at the end of the day, drop everything and move towards your spouse. Hold each other in an embrace until both of you relax in the other's arms.
When in the car or seated next to your spouse, reach out and hold his or her hand.
Coupling Intimacy Exercises
Instead of the quick peck, linger a little longer. Try kissing for a few seconds a couple times per day.
Initiate a romantic date night.
Set aside time for sensuous touching, whether it be a massage or caressing the other's body with a lighter touch.
Leave a note or send a text that is romantic or flirtatious in tone.
Igniting Intimacy Exercises
When you're in the bedroom, slow down, be fully present, and enjoy your partner's body. Instead of going directly towards intercourse, engage in more genital touching and passionate touching.
Further Resources
Interested in building stronger, more loving relationships in your marriage or for the married couples in your church? Get our free RelateStrong | Leadership Series eBook, featuring Dr. Rosenau's 3 types of physical intimacy and more. Sign up to be notified when the eBook is available.