RelateStrong
About RelateStrong


RelateStrong builds relationships for life and leadership.
We equip you to move from pain to peace so you can fully live into God's good purposes for your life.
Grounded in theology and the best of psychology, RelateStrong is a framework that provides emotion regulation skills and other tools for healthy relating. Through identifying our particular pain points and ways of coping, we are able to find personal healing and form new, healthy patterns of relationship.
Whether you are looking to use this model personally or to share it within your small group, church, or organization, you can find effective tools for change within RelateStrong.
The goals of RelateStrong are to provide insight into our underlying pain points in conflict, provide a pathway to intimacy and connection in these distressing moments, and replace old destructive coping behaviors with new, productive patterns.


Our Mission
RelateStrong is committed to helping couples and individuals develop valuable relationship skills that will dramatically and positively impact the way they interact with their spouses, families, friends, co-workers, and others.


Our History
RelateStrong (originally known as MarriageStrong) began in August 2008 at Fuller Theological Seminary with the mission of helping seminary students prepare their marriages for a life of leadership and service. Since then, RelateStrong has grown beyond the seminary setting and has been used in churches, Christian organizations, academic campuses, overseas programs, multicultural audiences, and other leadership venues. The material has been translated into Spanish, Korean, and Chinese and has expanded to other real life topics.


Engage with RelateStrong
Learn the framework that has brought healing and transformation around the globe. Contact the Boone Center for the Family for more information.
Theological and Psychological Foundations

RelateStrong integrates theology and the best of psychology.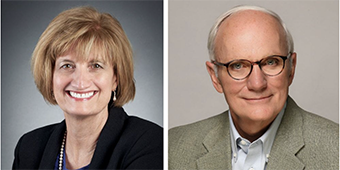 Sharon and Terry Hargrave, model founders
This model helps you regulate your emotions, stay meaningfully connected through conflict, and build healthy relationships.
RelateStrong is built on the principles of Restoration Therapy, a therapy model developed by Terry Hargrave, PhD, and Sharon Hargrave, LMFT. The model integrates sound psychological concepts with solid theological principles and teaches current therapeutic practices including self-regulation, attachment, and mindfulness. The Restoration Therapy model is taught in academic institutions around the country.
Whether you're looking for support in navigating your relationship with your significant other, spouse, peer, workplace, or those you lead, this program is designed to make you more effective and connected.
This model has proven especially effective to support ministry leaders through the unique challenges of ministry and pressure it can place on personal relationships. In this program, each person will learn to regulate and address conflict within their families, as well as with the people they lead and serve. You will also learn to understand the destructive responses you receive from others and how to navigate those interactions with peace.
God invites us to "be transformed by the renewing of your mind" as we take off the "old self" and put on "the new self," taught in Ephesians, Colossians, I Corinthians, and Romans. We are enabled with power from the Holy Spirit to change our old, destructive patterns to new, healthy patterns. Through engaging RelateStrong resources, you are equipped with language and tools for this important mind-renewing work.
Ephesians 4:22-24 states, "You were taught, with regard to your former way of life, to put off your old self, which is being corrupted by its deceitful desires; to be made new in the attitude of your minds; and to put on the new self, created to be like God in true righteousness and holiness." This challenges all of us to be "made new in the attitude of their minds" and live out the character of God within our families, marriages, and other relationships.


Resources