Relationship IQ Program Overview
The Relationship IQ Leader's Manual is a resource guide to help young adults relationally. It is designed to be used by the church, academic institutions, and organizational leaders who work with young adults (ages 16-22).
There are two main sections of the Relationship IQ Leader's Manual:
(1) The Leader's Guide lays the foundation for why this material is critical, how to interact with young adults, how to lead the material, and how to start a Relationship IQ program and run events.
(2) The eight modules include 48 weeks of small-group curriculum on eight relationship topics and eight single-session presentations (each with 85 minutes of teaching material). The lessons are easy to lead, very interactive, and highly relevant and applicable to young adults.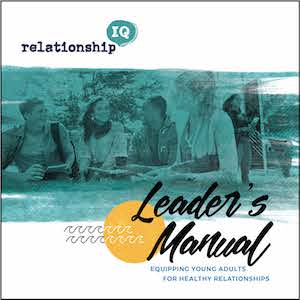 The eight modules within the Relationship IQ Leader's Manual include:
Intentionally Friends. Young adults often struggle with developing rewarding relationships. Help young adults stuck in shallow, non-supportive friendships build deep and lasting friendships. Young adults will discover how to bring out the best in their friends and become the friend they want to be.
Say What? Communication and Conflict. Help young adults sharpen their communication and conflict skills by learning how to say what they mean, tell the truth, and listen well. Their relationships, future spouse, children, and grandchildren will be blessed by these lessons.
How to Date the Best. In dating relationships, young adults not only want to find the best person, they want to be the best person. Learn how to help young adults start, end, and be in healthy romantic relationships. Through these lessons they will feel confident and have more peace while they date!
Does God Want a Relationship with Me? Many young adults don't realize they were created for relationship with God. Help young adults discover that God designed them for relationship with Him, wants to know them, and gives them identity, value, and purpose. Help young adults find a vibrant and joyful relationship with God that sets them free.
What About Sex? God created sex and gave it to us as a good gift. Yet, why does it seem like a curse sometimes? Help young adults explore God's good gift of sexuality, how our brains respond to sexual activity, cohabitation, relational impacts of sex, managing sex drives, pornography, sexual addiction, and God's healing and redemption. Young adults will learn to embrace the gift of healthy sexuality.
Boundaries and Freedom: Drawing Healthy Lines in Relationships. Young adults often struggle to say yes and no to the right things. Discerning what is their responsibility and what belongs to someone else can also be a challenge. Utilize this lesson to help young adults identify their boundaries, know how to enforce boundaries, avoid boundary violations, and live a healthier life.
Adulting in Your Family. The process of adolescents growing into adults in their families can sometimes cause friction and misunderstandings. In this module, young adults will learn how to transition well from being a child to an adult in their families. Young adults will explore how memories and birth order have shaped some of the dynamics in their family relationships and learn to better understand their parents' perspectives. They'll grow to take greater responsibility for their family relationships and also successfully learn how they can create a family away from home.
Technology and Relationships. Equip young adults for healthy relationships in the world of technology. Learn how technology is affecting young adult relationships in dating, identity, goals, mental development, and spirituality differently than it has for past generations. This module exists to support you as you help young adults to build the life-giving relationships God intended.
The Relationship IQ Leader's Manual is your answer for how to help young adults relationally. Be a voice of wisdom in the lives of young adults. Know how to talk about the difficult issues of sex, cohabitation, and ambiguous dating relationships. Be confident in the relationship guidance you are giving young adults with this excellent resource steeped in social science research and Biblical truth.