Welcome to the Boone Center for the Family
The Boone Center for the Family helps communities within churches, academic institutions and Christian organizations by providing programs and training to empower the communities' leaders. We are lucky enough to have our programs underwritten by generous donations and grants, allowing us to offer them at a cost making them accessible to the widest possible audience.
COVID-19 Free Resources
To support church communities during COVID-19, we have developed a suite of free resources for church leaders. A combination of webinars, videos and digital quick references guides — the resources are meant to help build better understanding and interrelations during this time that is adding stressors to everyone.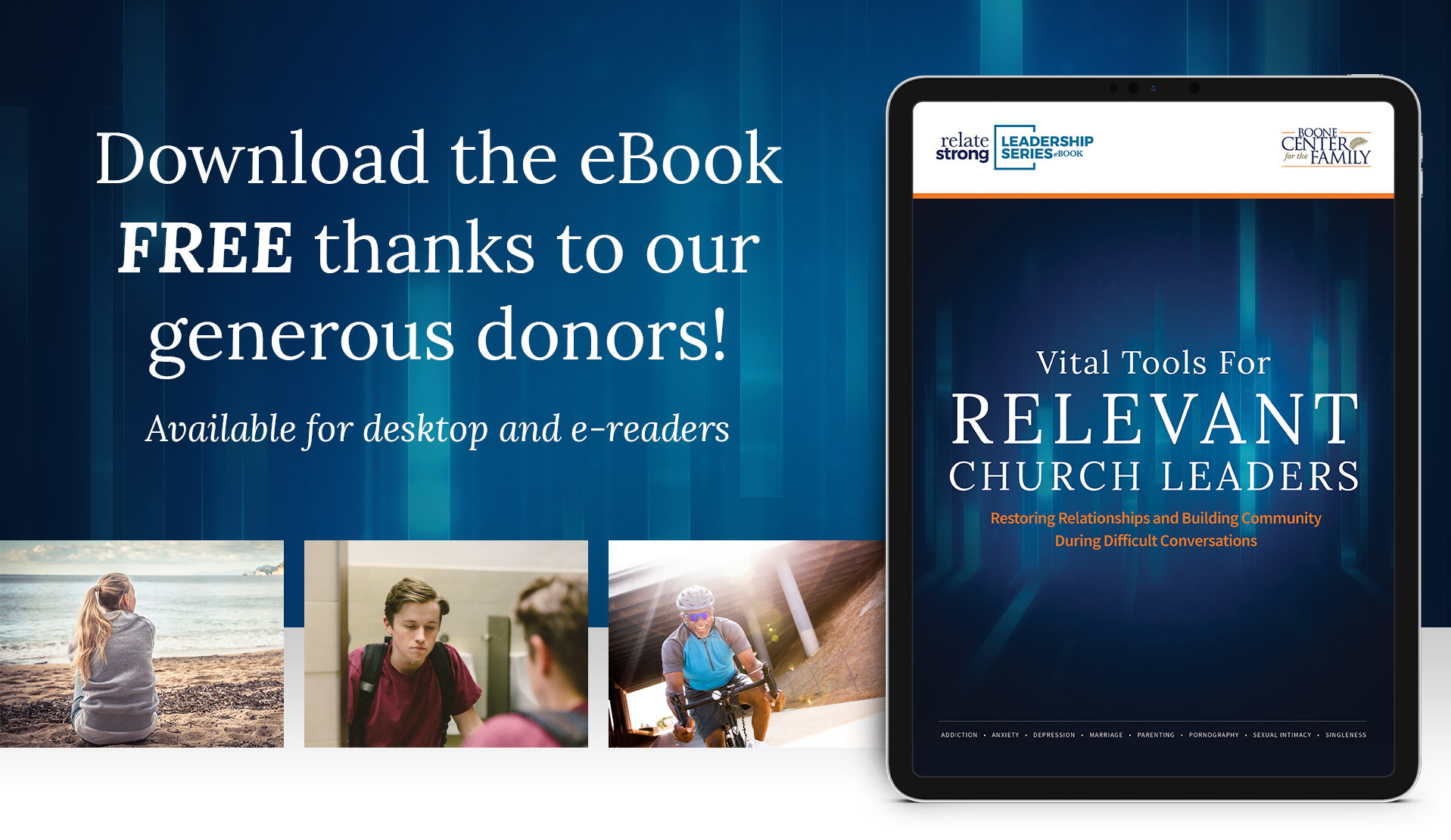 Download Our eBook
The downloadable RelateStrong | Leadership Series eBook empowers church leaders to discuss with their congregations often challenging and demanding topics like: Addiction, Anxiety, Depression, Marriage, Parenting, Pornography, Sexual Intimacy, and Singleness.
From Our Blog
Landmark Study, Developed in Conjunction with the Barna Group, Looks at 'Restoring Relationships'


The newly released study, Restoring Relationships: How Churches Can Help People Heal and Develop Healthy Connections, provides a data-rich understanding of the current state of relationship crises. Developed in partnership between the Boone Center for the Family and the Barna Group, the report was more than a year in the making and takes a deep dive into the current climate of mental, emotional and relational health through issues.

From Pain to Peace: How Cindy Resolved Her Own Question of Singleness


One effective tool for self-reflection is the pain and peace cycle. By studying the deep-rooted causes and beliefs of our pain, we are better able to identify and disrupt this pain cycle by changing our patterns in thought, and in action.

1 Quote to Reframe Your Thinking on Pornography and the Church


In an article shared for the RelateStrong | Leadership Series eBook, Jeff (a former pastor and marriage and family therapist) discusses his personal experiences with pornography and shame. From the book: "According to the Christian Newswire, I am not alone in the chronic struggle with shame. It is reported that 68% of Christian men and 50% of pastors confessed to viewing porn weekly."