Purchase RelateStrong Curriculum
The RelateStrong program empowers leaders with the tools to facilitate group sessions with anyone in their community wanting to build and strengthen relationships with spouses, couples, family, friends, colleagues, and within the Body of Christ. The manuals are tailored for both couples and individuals, and are now available in Spanish, Chinese and Korean!
RelateStrong Manuals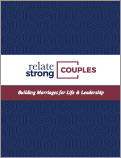 RelateStrong | Couples; Leader Guide
Building Marriages for Life and Leadership. Help couples prepare their marriages for leadership and service by strengthening their marital bond while giving them the skills that will change the way they interact with others.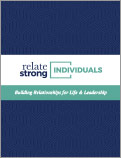 RelateStrong | Individuals; Leader Guide
Building Relationships for Life & Leadership. Help individuals grow in who they are and how they are in a relationship to God and others, leading to stronger relationships and more effective leadership and service.
5 Days to a New Marriage (Book)
This short 5 chapter volume will help you find a dynamic chance to change direction in your life. You can have a better marriage you may never have imagined was possible.
5 Days to a New Self (Book)
Become brand new by changing the old. Learn step-by-step hot to pursue the very best part of yourself. Changing yourself to something you have always wanted can happen sooner than you think!