Purchase Quick Reference Guides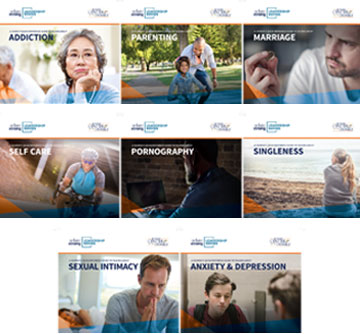 The RelateStrong | Leadership Series empowers church leaders to discuss difficult topics with their congregations. The Quick Reference guides offer a guide to discussion, as well as offering statistics, myths and truths, and practical applications in the church. These comprehensive brochures are now available for individual topics, or can be purchased together in a complete set.
Available for Purchase
Individual topics to be sold in packs of 5 at $8 / Complete sets (1 of each topic) at $12
Pornography
Pornography use can develop a mindset of lying, hiding, and secrecy.
Authored by Jeff Reinke, Pastor, and Robin Reinke, LMFT
Sexual Intimacy
Sex and sexuality are an integral part of our design as invidicuals and in relationships.
Authored by Scott Symington, PHD, LP, and Melissa Symington, PHD, LP
Singleness
Singles are a rapidly increasing population and long-term singleness is on the rise.
Authored by Kelly Haer, PHD, LMFT
Parenting
Helping children and adolescents develop the skills to handle hard times, stress, and tolerance.
Authored by Connie Horton, PHD, LP
Addiction
Addiction is different for every person, some struggle for years while others may respond to treatment.
Authored by Robert Scholz, LMFT, LPCC
Self Care
Research suggests pastors can take practical steps to increase well-being and flourish in life & ministry.
Authored by Rev. Chris Adams, PHD
Anxiety & Depression
Anxiety and depression are on the rise, but can be used as tools for personal growth.
Authored by Rhett Smith, LMFT, MDIV
Marriage
Marriage is in decline as more people delay marriage in favor of cohabitation.
Authored by Dr. Terry Hargrave, PHD, LMFT
Multi-pack: Complete Set
This complete set of 8 offers one quick reference guide for each of the topics.